Product Description
Our hardwood logs are a combination of ash, oak and sycamore wood, harvested from well managed woodland from across the estate.  Hardwood logs are available in two load sizes; 1.5m³ and 2.5m³.  All of our firewood logs are seasoned indoors for at least 12 months, which allows them to achieve a moisture content of below 30%, very good for burning efficiently. Hardwood logs are ideal for use on open fires, as spitting is minimal.
As a guide only, our logs are cut to approximately 10" in length and average approximately 4" in diameter, however, exact sizes of logs will vary. Deliveries are made free of charge to addresses within a 15-mile radius of the estate, and include Fakenham, Dereham, Watton, Brandon, Downham Market and King's Lynn on the outer reaches.
Prices include VAT at 5%.
Delivery
Delivery is free in a 15 mile radius of South Pickenham Estate, depicted on the map below in the red circle; otherwise there is a delivery charge of £30.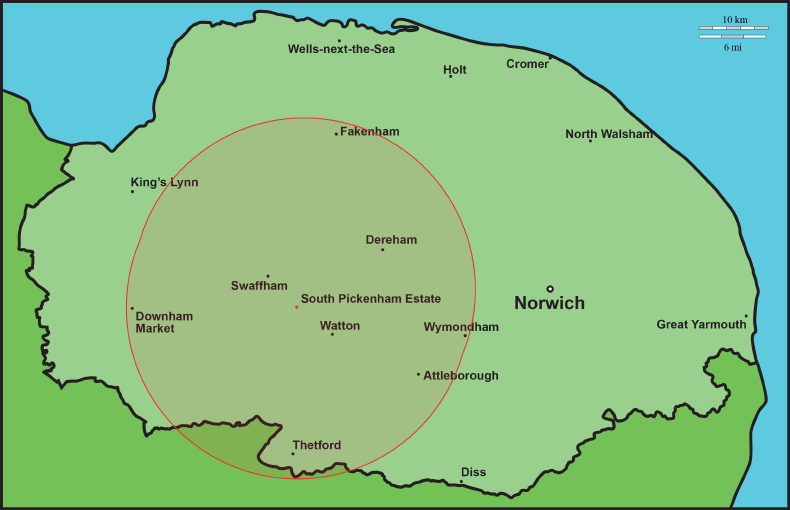 Delivery Information
Deliveries are made Monday to Fridays (excluding Bank Holidays), in either a morning slot from 9am to 1pm, or an afternoon slot between 1pm and 5pm. Unfortunately our delivery slots cannot be more specific but we will endeavour to deliver at a convenient time for you.  We aim to deliver your logs within the time frame requested; however, occasionally it may be necessary for us to amend the delivery time. If this is the case, we will contact you to arrange an alternative slot for your delivery.
On delivery, your firewood will be tipped directly from a trailer onto the ground.  If you will not be there in person, please indicate clearly where you would like your logs to be tipped. Unfortunately we are unable to stack your logs or move any firewood by hand.
Please take careful note of the volume of your purchased load of firewood, and consider where the load can be conveniently tipped.
Please ensure that the vehicle and trailer will have easy access to your tipping site. We do ensure that all of our firewood is fully seasoned and will be delivered with a moisture content of 30% or less.  In order to maintain this quality we recommend that you store your firewood undercover, in a dry and well ventilated area, and away from any heat or ignition sources.
Due to the nature of the product please expect a certain amount of wood chippings and 'bits' to be delivered within your load.  However, these are not part of the purchased volume and may even be useful to use as kindling.